Satellite Magnetometers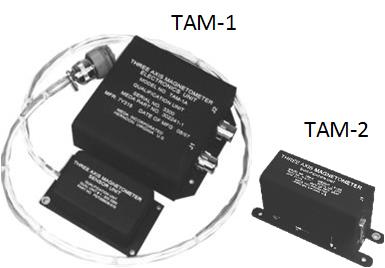 The TAM-1 and TAM-2 series of space qualified fluxgate magnetometers offer the satellite attitude control system designer a lot of flexibility:
Field ranges from ±100 to ±1000 mG
Biased and or unbiased outputs
±2.5, ±5.0, ±10.0 or 0 to 5 output voltage ranges
The TAM-1 series offers up to three outputs per axis
Operate from standard 28 volt power buss
A calibration coil around each axis
Wide operating temperature range
The TAM-1 has a fluxgate sensor unit that is separate from the electronics unit. The sensor can be located outside the satellite platform on a boom where it is less influenced by magnetic sources within the spacecraft. The sensor can operate over the much wider temperature range (-90ºC to +80ºC) required of instruments in this severe environment. Download the Data Sheet for a complete description of the TAM-1.
The TAM-2 integrates the fluxgate sensor and the electronics into one package. It is a compact low power magnetometer that is suitable for use where an external sensor is not needed. Download the Data Sheet for a complete description of the TAM-2.
The standard acceptance tests include:
Dimensional and visual inspection
Performance test at the operating temperatures
Random vibration to the customer's specified levels
Thermal cycle and burn-in to the customer's specification
Final inspection
The customer can specify additional tests if the environmental requirements are more severe than the current magnetometer qualification levels.
Each delivered satellite magnetometer is accompanied by an End-Item-Data Package that includes its manufacturing history, acceptance test results, all required certifications and as-built documentation.
In addition to the satellite magnetometers used for attitude control MEDA also designs and manufactures Hi Rel space qualified magnetometers for scientific applications.
Contact MEDA for details and pricing.